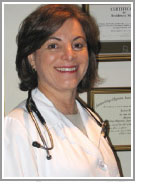 Doctor Anelise Engel is Board Certified by the American Board of Obesity Medicine, by the American Board of Internal Medicine and the Rio de Janeiro Board of Medicine. She is a native of Brazil and a US citizen, is fluent in English, Portuguese and Spanish. She has been in private practice for the past 20 years and has an expertise in weight loss, diet and metabolic and obesity related diseases; diabetes, cholesterol disorders and hypertension.

Dr. Engel has a successful private Internal Medicine and Bariatric practice in midtown Manhattan. She is affiliated with Lenox Hill Hospital in New York City where she is a clinical instructor in Medicine and is actively involved in the teaching program for residents.

Dr. Engel completed her residency training at Lenox Hill Hospital and received her Board Certification in 1998. She scored in the top 10 percentile in the country on the Medical Boards of Internal Medicine.

Prior to her move to New York, Dr. Engel was a practicing physician in her native Brazil where she was an attending physician at Clinica São Vicente. There she was invited to be the co-director of the Genival Londres Research & Study Center. In Rio de Janeiro she established a thriving private Internal Medicine practice, and also worked within two distinct government agencies, the Regional Labor Council and the National Institute of Social Welfare.

Dr. Engel is a bariatrician. Dr. Engel has advanced training and education in the art and science of weight management. The reason Dr. Engel is very successful with her weight loss patients is that her focus is on education and her patient's emotional needs, in addition to medical considerations. Dr. Engel is respectful of patient's busy schedules. Thus, she offers extended hours by appointment.

"…dieting programs change over time and as patients adjust their weight. There is not one program, but many adjustments that create weight loss momentum."
Anelise Engel, M.D.

| | | | | |
| --- | --- | --- | --- | --- |
| | | | | |
| | | | | |


NYU Langone - Ambulatory Care West Side


355 West 52nd St., 2nd Floor
New York, NY 10019
map

T (646) 754-2187
F (646) 754-2585